Perpetual Inventory Managment
Running a successful retail business requires accurate management of your perpetual inventory. Knowing exactly what you have in stock, along with knowing how quickly you each of your products sells, is the only way accurate and efficient automatic product ordering can take place.

TSS includes a powerful RF Gun-based inventory management system that is fully integrated with all modules of the system. Most point of sale systems support batch mode data-capture terminals; data from such terminals is downloaded into the store controller after the employee finishes their task. This cumbersome and rather complicated task is very error prone, and it tends to decrease the quality of the perpetual inventory data dramatically.

The TSS RF Gun System is a real time high performance system, capable of updating all aspects of the TSS perpetual inventory data system instantly. Using RF Guns, store employees are able to efficiently receive product into the store system. This product can come from a variety of different vendor sources – everything from purchase order receiving to the restocking of soft drinks by the Pepsi supplier. The TSS system permits up to 64 RF Guns to be used simultaneously.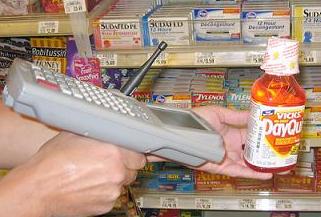 RF Guns play a big role in the setup of a new TSS system. Using the guns, employees walk the aisles with guns, shooting the products and entering the correct retail pricing data and sales tax information, all from the gun. When new products are located, employees can add the new product right from the RF gun, using a similar product designated for cloning. The TSS system is optimized for setting up a new store quickly and accurately.
RF Guns are also used to enhance the TSS automatic ordering system. Employees can walk the store with a gun before the order is placed, shooting the shelf labels for out of stock items and making certain the perpetual information for these products is accurate. The system also permits you to enter an order quantity directly into the RF Gun.
Tracking and controlling a store's perpetual inventory levels is essential in today's fiercely competitive retail environment. The TSS perpetual inventory management system puts the tools in your hands to accurately maintain perpetual inventory data with a minimum of effort.