One of the biggest tasks facing an independent pharmacy installing a new point of sale system is the creation and maintenance of the store item file. A typical store will include several thousand items, each of which requires the entry of accurate pricing information, product description and sales tax status information. In addition, each product requires assignment to an appropriate category and vendor in order to facilitate meaningful sales and item movement reporting. As suppliers continue to ship new products and as market demands dictate price changes, ongoing work is required to make certain all items scan at the correct price at the cash registers.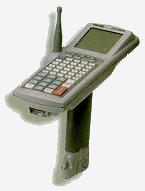 TSS includes an easy-to-use application for building and maintaining the store's item file. The base system comes preloaded with several hundred thousand common products. A new store can be setup using wireless RF barcode guns, which scan the products and prompt the users to enter the correct retail prices. The common products database saves the store the tedious task of typing in product descriptions and selecting other required values in order to add products into the system.
The item file maintenance system includes an integrated high-speed barcode scanner connected to the store controller, relieving users of the task of entering UPC product numbers manually. When new items are added to the system, users can quickly clone existing products which are similar to the new products. This speeds up item file maintenance dramatically.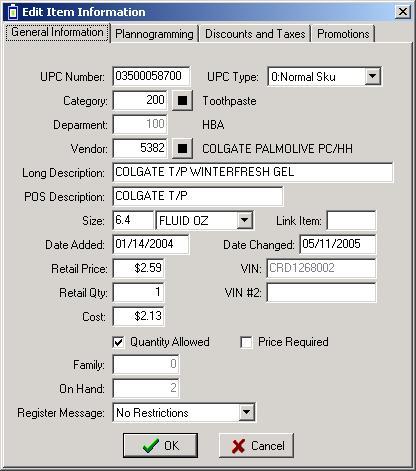 TSS supports families of products. Families are ideal for driving the pricing of closely related products, such as shades of hair color and flavors of toothpaste. Rather than requiring individual item prices, families of products only require a single retail price for the entire family. This timesaving tool also enforces accuracy when setting retail prices for your store.

TSS supports flexible promotional pricing. A variety of different promotional pricing schemes can be applied to individual items, families of items, items in a selected category, items from a selected vendor, or items in both a selected category and a selected vendor. Available pricing schemes include specified retail pricing, BOGO's, percentage off and specified dollar amount off.