Point of Sale Cash Register System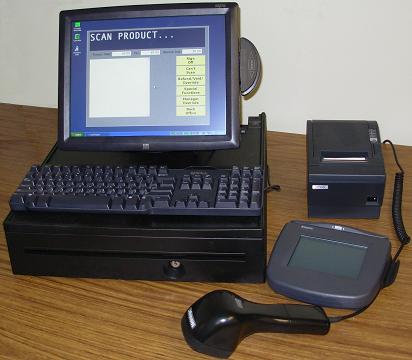 The main component of TSS is a high-performance, state of the art Touch Screen Cash Register System. Based upon advanced multi-threaded software technology, the system can effortlessly and reliably support stores with more than 200 cash registers.
WAN or Internet-based financial transaction authorizations mean your credit card, debit card and gift card transactions are settled in under three seconds. This is a tremendous convenience for customers paying with charge cards and for the customers standing behind these customers in line!
TSS utilizes modern computer hardware running the Microsoft Windows operating system. Each screen in the system is clearly laid out and extremely easy to use. Unlike competing systems which are cluttered with dozens of tiny touch screen buttons, each TSS screen displays a small number of easy to access touch regions. The TSS system is easy for new cashiers to learn, and it is very efficient for experienced cashiers.
Specialized product label printers are used to create high quality shelf labels. Unlike using a laser printer to print sheets of product labels, using a label printer results in no waste of expensive label stock. TSS employs a two-step process for hanging shelf labels and posting price changes, ensuring that products always scan at the correct retail price.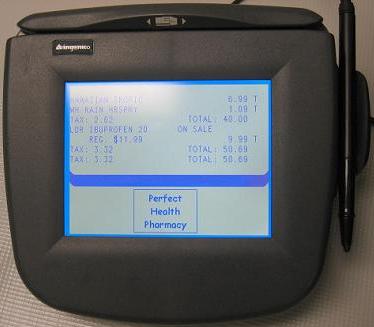 The TSS cash register can prompt the cashier to check the ID for customers purchasing alcohol or tobacco products. The cash register can be configured to capture selected customer information, such as the customer's zip code.
The TSS cash register prompts the cashier to properly handle the sale of OTC products containing pseudoephedrine. This includes reading the magnetic stripe on the customer's drivers license as well as capturing and archiving the customer's electronic signature.
TSS supports flexible promotional pricing. A variety of different promotional pricing schemes can be applied to individual items, families of items, items in a selected category, items from a selected vendor, or items in both a selected category and a selected vendor. Available pricing schemes include specified retail pricing, BOGO's, percentage off and specified dollar amount off.